Quality, Health, Safety, Environment
We are committed to providing a healthy, safe environment for its employees and others (contractors, visitors and the public) that may be affected by its works and business activities without risk of injury or illness.
All our employees are dedicated, trained according to relevant national and international statutory Health, Safety, Environment and Quality standard such as ISO 9001-2015, ISO 45001-2018, BizSafe Enterprise Level STAR Certificate.
We wish to adopt all other reasonably practicle means to reduce or eliminate terror threats, hazards and the risk of injury to its employees and others (visitors, contractors, workers and members of public) and the risk of damage to property.
BizSafe CERTIFICATE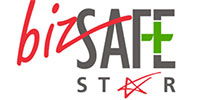 ISO CERTIFICATE